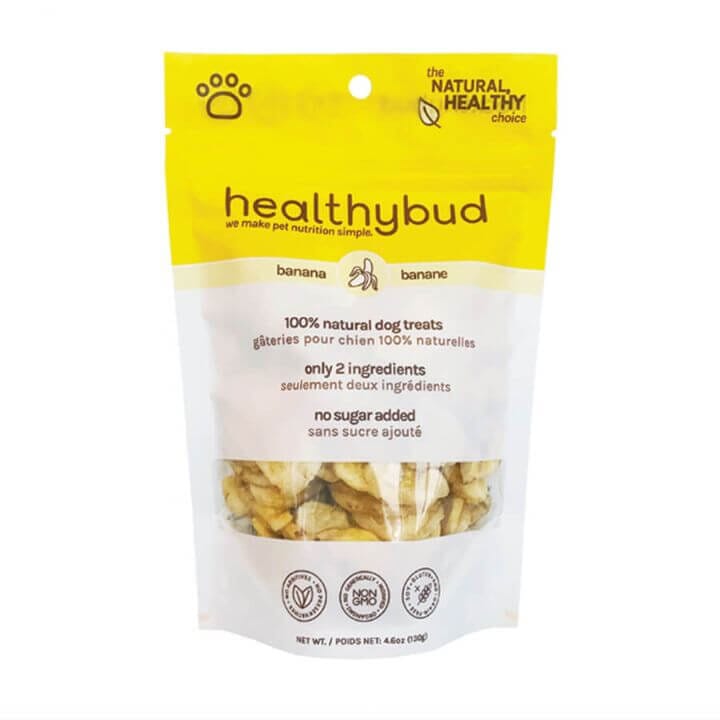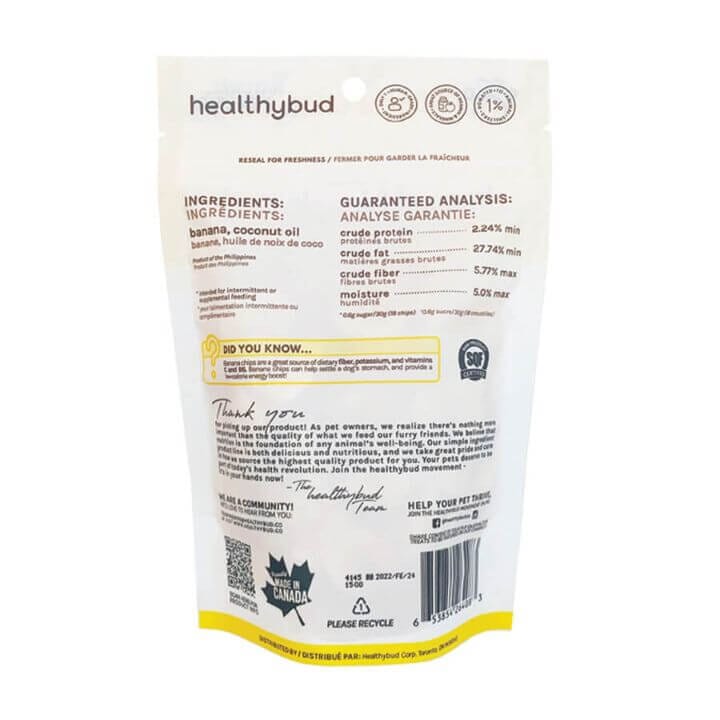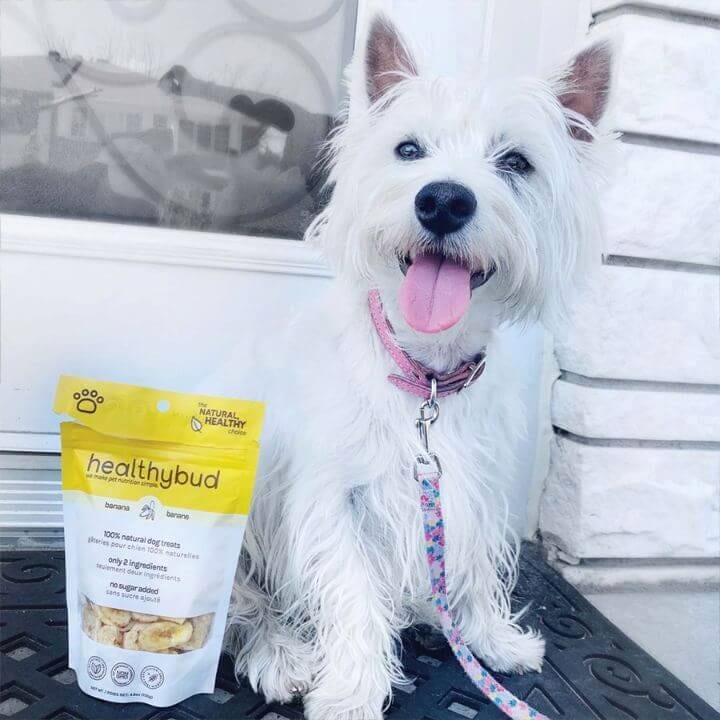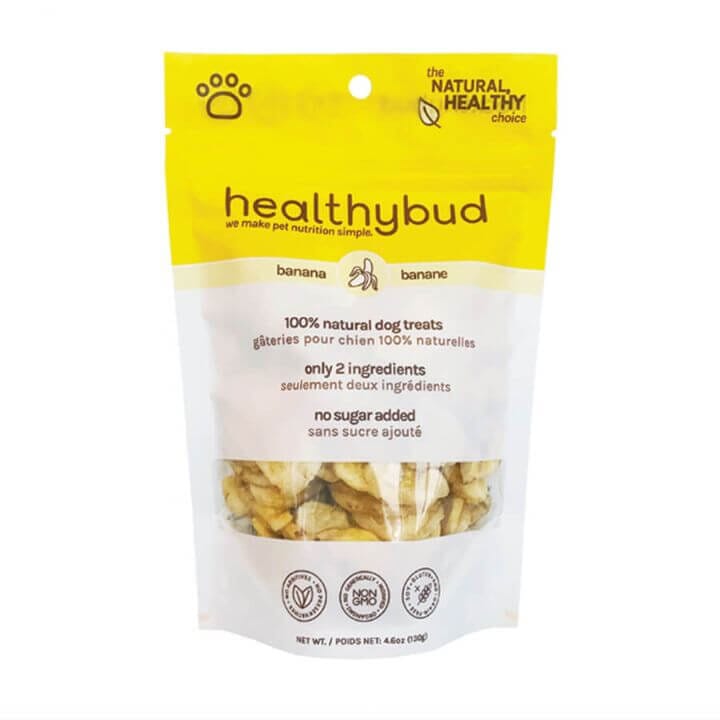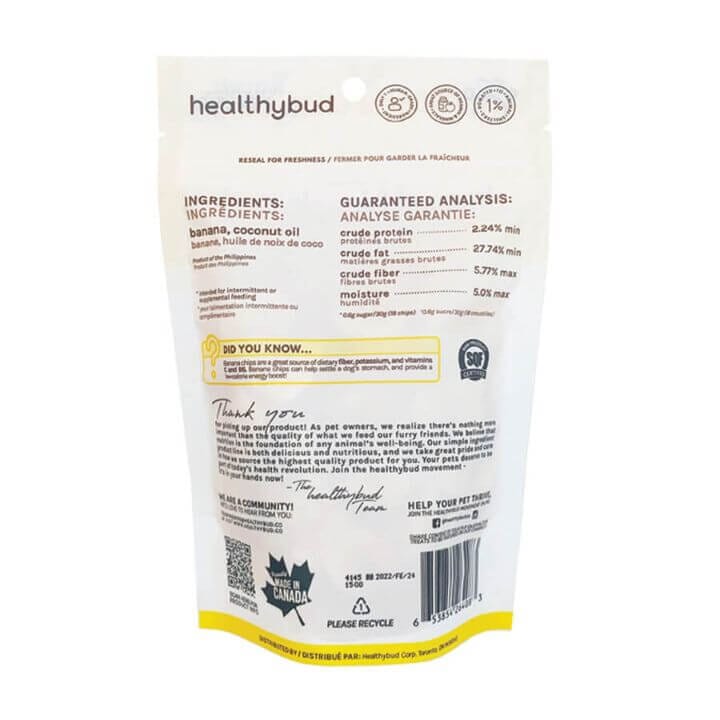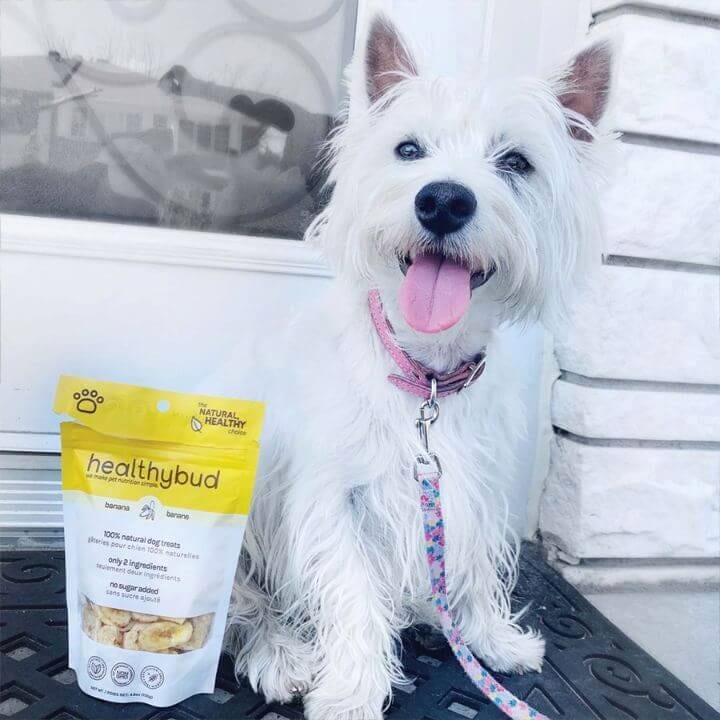 banana crisps
Need a treat your bud will always sit for? This no-filler snack is your new go-to.
Low-cal energy boost
100% natural ingredients
High in fiber
Optimally sized for any size dog
Human Grade
100% Natural
Made in Canada
Non GMO
Grain Free
Nothing Artificial
Did you know that bananas are a great source of fiber, vitamins & minerals? These natural dog treats are as healthy as they are tasty. Our banana crisps have only one added ingredient to give it its crunchy texture: coconut oil! They contain no added sugar or salt and are 100% natural. These crisps make the perfect treats that can be put in your pocket when you're on the go. If your dog hasn't fallen in love with the taste of baked banana chips yet, then we bet you they will soon!
100% money-back guarantee
We're confident your bud will love our treats. If they don't, we'll give you your money back
your bud might also like
---
5
---
verified purchase  
5 out of 5 stars
Banana chips
Bella and Sophie love their banana chips
verified purchase  
5 out of 5 stars
She goes BANANAS for these!
Our Rosie puppy goes bananas over these crunchy banana chips she inhaled them and will do basically anything to get these tasty snacks! XO
verified purchase  
5 out of 5 stars
GOIN' BANANAS OVER THESE TREATS
My two dogs Sadie and Heidi are OBSESSED with HealthyBud! They are usually very picky with dog treats but they LOVED these banana crisps. We've also had the Sweet Potato treats which is Sadies all time favorite. The shipping was so fast and they had amazing customer service! I definitely reccomend you purchase the sweet potato treats and the banana crisps, you will not regret it!
verified purchase  
5 out of 5 stars
LOVE THESE
My dog loves the banana crisps so much! He loves the taste and smell of these treats and I love that they have only 2 ingredients. I am very picky about what I feed my dog and these beyond exceeded my expectations! Plus, Healthybud has amazing customer service, especially on their social media pages! They go above and beyond to make sure all of their human and pup customers are happy!
verified purchase  
5 out of 5 stars
HAPPY GIRL
Our pup Rosie a Cockapoo loves these treats! Who knew banana would be a hit? You guys did! Thank You~XO